New NTT Colleagues
––We welcome our newcomers to the NTT Group
This is a corner of the NTT Technical Review where we introduce our new affiliate companies.
e-shelter
3rd largest datacenter operator in Europe; established in 2000, headquartered in Luxembourg
Founded in 2000, e-shelter designs, builds, and operates high-availability datacenters, whose infrastructure guarantees the highest standards of physical security and operational reliability. The company operates over 90,000 square meters of datacenter space in four major cities in Germany, as well as in Zurich, Switzerland and Vienna, Austria. One of its main facilities, Campus Frankfurt 1, is Europe's largest datacenter, with some 60,000 square meters of datacenter space. The complex comprises five free-standing buildings constructed specifically as datacenters (Photo 1). In March 2015, NTT Communications Corporation, the international communications and ICT (information and communication technology) solutions provider, jointly announced with e-shelter and ABRY Partners, a private equity investment firm, that NTT Communications would acquire 86.7% of e-shelter's issued shares. This acquisition will vault the NTT Communications Group into the No. 3 position for datacenter space in Europe. For further information about e-shelter, please visit https://www.e-shelter.de/en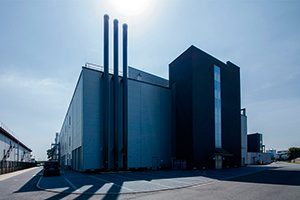 Photo 1. Campus Frankfurt 1.
Contacts:
Public Relations Department
NTT Communications Corporation
http://www.ntt.com/aboutus_e/news/data/20150303.html