Feature Articles: Service Design for Attractive Services and Trends in Design Thinking
Initiatives Related to the Creation of New NTT DATA Services
Abstract
At NTT DATA, we do not limit ourselves to developing systems in response to RFPs (requests for proposals); we endeavor to create and commercialize innovative new services together with both client and partner companies in short periods of time. However, thinking about this work and proceeding with it involve a very different approach than that used in system development projects, and therefore, several departments within the company have been moving forward with a variety of initiatives to facilitate the process. This article introduces the initiatives related to the creation of new services at NTT DATA.
Keywords: service design, prototyping, co-creation
1. Introduction
Smartphones, big data, and other recent technological innovations have brought enormous changes to our lives. The providers of these services—NTT DATA's customers—need to accurately ascertain their end users' needs and efficiently provide services.
Under these circumstances, information technology (IT) vendors such as us need to not only obtain and implement RFPs (requests for proposals); we also need to co-create businesses and services themselves with our customers and then engage in open innovation through the adoption of existing solutions and technology and the rapid implementation thereof. We need to make these service initiatives part of the value provided by NTT DATA.
2. Internal company initiatives related to developing new businesses and services
Initiatives for developing new services have been deployed in a variety of departments at NTT DATA. Six of these initiatives are introduced here (Fig. 1):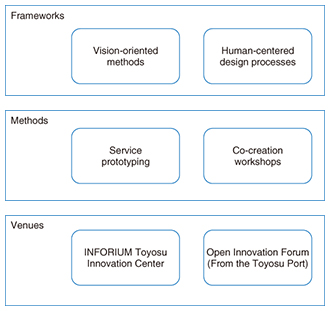 Fig. 1. Six initiatives.
1) Vision-oriented methods: One of the frameworks for organizing thoughts related to new business development
2) Human-centered design process: A process for honing in on users' subconscious needs to implement experiences that can satisfy them
3) Service prototyping: A technique that gives a diverse team a common language for developing new services
4) Co-creation workshops: A technique for producing ideas for new services during short workshops
5) INFORIUM Toyosu Innovation Center: A venue for the co-creation of new services with clients
6) Open Innovation Forum—From the Toyosu Port: A venue for new services emerging through open innovation
2.1 Vision-oriented methods
NTT DATA maintains two types of methods for developing new services. The first is the vision-oriented method (Fig. 2), which involves searching for business opportunities by breaking large problems into smaller ones. This method adopts a future-oriented approach and techniques for thinking freely; as a result, mental barriers can be torn down in order to create fresh business proposals that have not been seen before. Also, the goals to be achieved (the vision) and the business opportunities for those goals (the actions) are each split into two levels. This makes it easy to come up with expansive business plans and is particularly suitable for creating businesses that address societal problems and also for creating infrastructure services.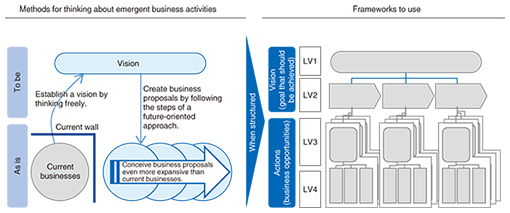 Fig. 2. Vision-oriented method.
The second method for developing new services is the user-oriented method. This is based on a human-centered design process, as described below.
2.2 Human-centered design process
With the diversification of smartphones, tablets, and other consumer devices, we need to be conscious of the many different kinds of end users, including the elderly and technical neophytes. In 2000, NTT DATA established a dedicated IT accessibility team. Starting in 2009, usability considerations were also taken into account, user interface policies were created to support proposals, screen design documents were reviewed, usability evaluations were conducted, and other similar efforts were implemented. These were later expanded to cover user experience design as well, which involved focusing on users' actual subconscious needs to provide experiences that can satisfy them through systems. User studies, user modeling, for example, personas (Fig. 3(a)) and journey maps (Fig. 3(b)), prototype construction, and evaluation processes are conducted to place people (users) front and center.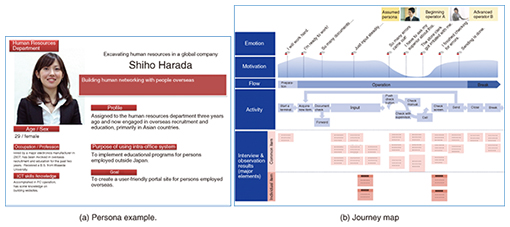 Fig. 3. Example of user modeling in human-centered design process.
2.3 Service prototyping
A wide variety of people are involved in developing new services, from client and partner companies to NTT DATA's development and marketing teams. As the scale of a project grows, so too does its complexity. In other words, project members and teams with differing backgrounds share an image of the user experience and the concept for new services, causing different opinions and arguments to compete with each other. It is not uncommon for project members with different positions and roles to think that they are saying the same thing to each other when in actuality the things they imagine differ. A common language is therefore necessary to express concepts, user experiences, and other abstract ideas as concretely as possible.
For this reason, the Technical Development Department's Service Innovation Center has proposed the service prototyping method, in which services are expressed in four stages: concept, scenarios, architecture, and touchpoints. Together, these are called a prototype and are defined as part of the common language for service development projects.
(1) Concept
The concept for a new service—especially in the early stages of considering it—is very abstract and difficult to explain to others. We define a concept prototype to express a service's essential value proposition in concrete terms (Fig. 4).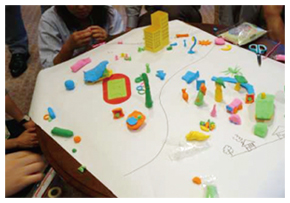 Fig. 4. Concept prototypes.
(2) Scenarios
What experiences will end users have as a result of a new service? What latent needs will the service satisfy? How will the service provider communicate with the end users? These questions, along with other user actions and user experience flows, are often represented via four-panel comics and other prototypes called user scenarios.
(3) Architecture
Architecture prototypes are extremely important because newly devised services need to be implemented as IT systems and human processes. We define the flow of the end user experience as well as the technological and non-technological features implementing it; we also provide detailed definitions of a wide variety of workflows, touchpoints, and the way in which features are structured, covering a wide variety of situations from the initial use to continued use of the service (Fig. 5).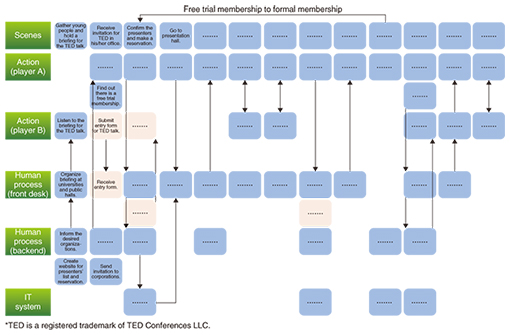 Fig. 5. Service architecture prototypes.
2.4 Co-creation workshops
We promote ideas related to our clients' industries and the future of their businesses to discover clues relevant to new services. When members of the business and research and development departments at both our and our clients' companies gather together, they investigate the essential issues that arise from their discussions to think through the clients' values and paint an image of the future. A single person only has a limited capacity for coming up with ideas, but a diverse group of people can motivate each other to produce new ideas more easily. The Technical Development Department runs two types of workshops (Fig. 6) that are inspired by future trends in our information society and the technology that supports it that have been pointed out in the NTT DATA Technology Foresight report.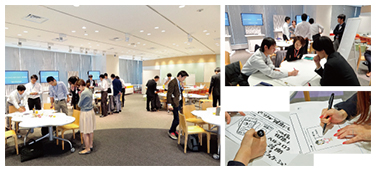 Fig. 6. INFORIUM Toyosu Innovation Center and co-creation workshops.
The first workshop focuses on expressing ideas and employs forced creative thinking techniques. Scenes of a service in use are combined with technology to come up with new ideas that answer the question of what would happen if the latest technology was used for existing work and services. The second workshop involves examining medium- and long-term policies and paints a picture of what our company should be like 10 years hence. By predicting how trends in technology and our information society will change the world 10 years in the future, we speculate on how the industry and our own business will be affected. We also examine what our future course should be, including what actions we will need to take to get over these expected changes and continue growing. All of our workshops entail a combination of individual and group work.
2.5 INFORIUM Toyosu Innovation Center
The venue for the co-creation workshops is also important. It is difficult to effectively disseminate ideas in an ordinary conference room. At the INFORIUM, which is run by the Public Relations Department, visitors can at any time readily see creative content concerning the future as well as demonstrations of the latest technology that is connected to the future painted by NTT DATA Technology Foresight. There is also an open area where visitors can watch a video of NTT DATA's vision for the future, an exhibition area where visitors can actually try out the latest technology that NTT DATA has been working on, and a workshop area that functions as a space for encouraging co-creation with clients via co-creation workshops and individual informational seminars for NTT DATA Technology Foresight, which is organized by the Technical Development Department.
2.6 Open Innovation Forum: From the Toyosu Port
This open innovation forum is an attempt to create an emergent business lab for open innovation. Because it takes a long time for a company to commercialize an idea if it develops new services entirely in-house, the goal of the open innovation forum is to implement innovative new services in a short period of time by combining new technologies and adding ideas from outside companies as well. We combine our core services and solutions with those of startups that have new technologies and services in order to provide new value to client companies. This forum is named From the Toyosu Port and was started in September 2014; regular meetings are held once a month [1] (Fig. 7).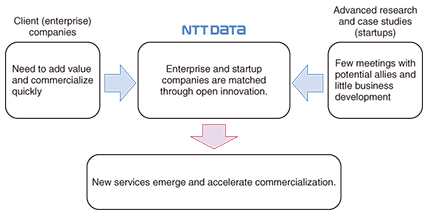 Fig. 7. Goals of the Open Innovation Forum "From the Toyosu Port."
In accordance with the theme of each meeting, several startup companies give presentations and conduct panel discussions with members of our relevant business departments. These meetings are held in front of our own group members and people from our client companies. Social gatherings also serve as an opportunity to exchange business cards, have active discussions, and participate in networking devoted to the development of new services; this is all linked to businesses being matched with each other. Recently, we have gone one step further by holding open innovation business contests [2] and developing our initiatives involving support services called digital corporate accelerator programs to support our clients' open innovation efforts.
3. Future work
NTT DATA is promoting several initiatives across multiple departments for emergent new services. We hope that exchanging the actual results of these activities will lead to the establishment of standard methods for service design at NTT DATA in the future as we strive to make service designers as common as software engineers.
References