Feature Articles: Activities toward Zero Environmental Impact and Environmental Adaptation to Build a Resilient Society
Vol. 21, No. 2, pp. 28–32, Feb. 2023. https://doi.org/10.53829/ntr202302fa3
CO2 Conversion and Emission-control Technologies toward Carbon Neutrality
Abstract
This review outlines two technologies contributing to carbon neutrality: (1) efficiently converting atmospheric and oceanic carbon dioxide (CO2) into organic matter by improving the carbon-fixation capacity of plants and algae, and (2) reducing CO2 emissions from soil by controlling the organic-matter decomposition induced by microorganisms.
Keywords: carbon neutrality, genome-editing technology, biogeochemical cycle
1. Three strategies to reduce atmospheric CO2 level
The absorption and emission of carbon dioxide (CO2) occur through biological activities, and their balance significantly impacts the atmospheric CO2 level on Earth (Fig. 1). Compared with the total amount of CO2 emissions to the atmosphere, the amount of CO2 absorption by land plants for photosynthesis*1 and by the ocean is 57.7 and 34.6%, respectively [1], whereas the amount of CO2 emissions from soil accounts for 61.3%. NTT Space Environment and Energy Laboratories is developing three technologies to (1) reduce atmospheric CO2 with a focus on plants, (2) reduce oceanic CO2 with a focus on the food chain between algae and fish/shellfish, and (3) control CO2 emissions from soil with a focus on organic-matter decomposition induced by microorganisms.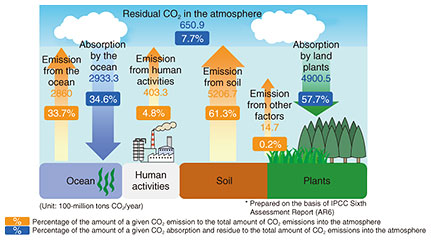 Fig. 1. The overall picture of global CO2 flux.
2. Conversion technology for atmospheric and oceanic CO2
Plants and algae absorb CO2 from the surrounding environment into their bodies and synthesize organic matter from CO2 by using light energy (i.e., carbon fixation) for their growth. The enhancement of the CO2 fixation capacity in these organisms has the potential to accelerate their growth and CO2 absorption, ultimately contributing to a reduced level of atmospheric and oceanic CO2. This section introduces research on reducing atmospheric and oceanic CO2 levels by enhancing the carbon-fixation capacity in plants and algae.
3. Control technology of CO2 emissions from soil
Various types of organic matter, such as animal waste, dead leaves, and plant roots, accumulate in soil. This organic matter is decomposed into inorganic matter by living organisms, and the inorganic matter is taken up by plants for synthesis into organic matter. Through this biogeochemical cycle, CO2 is generated mainly during organic-matter decomposition induced by microorganisms in soil (Fig. 3). Therefore, controlling organic-matter decomposition can lead to technology for reducing CO2 emissions from soil. This section introduces research on reducing CO2 emissions from soil by controlling organic-matter decomposition.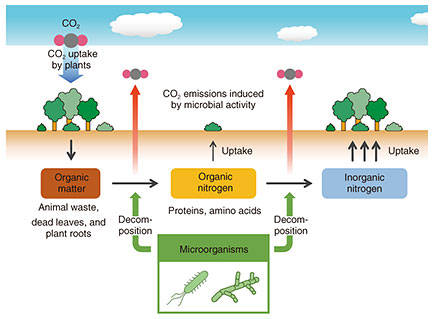 Fig. 3. CO2 emissions from soil through organic-matter decomposition.
To reduce CO2 emissions from soil by controlling organic-matter decomposition, the following question needs to be answered; "how much organic matter is decomposed and by which factors, causing CO2 to be emitted from soil?" Soil is characterized by three aspects, biological characteristics (the type and number of organisms), chemical characteristics (the type and amount of chemicals), and physical characteristics (hardness and breathability), and these affect the organic-matter decomposition while interacting with each other. When plants grow in soil, they show high photosynthetic activity under rich nutrient conditions and secrete organic matter from their roots into the soil. Soil characteristics and plant growth also affect organic-matter decomposition through their interactions. In addition, soil characteristics and plant growth are affected by environmental conditions such as temperature and water content. Overall, it would be essential to clarify the relationship between CO2 emissions and soil characteristics, plant growth, and environmental conditions to develop technology to reduce CO2 emissions from soil.
To develop such technology, we are planning to (1) obtain and analyze a large-scale dataset including soil characteristics, plant growth and photosynthetic activity, environmental conditions, and soil CO2 emissions then (2) develop a mathematical model simulating the soil CO2 emission process. We are currently developing a system that enables high-throughput collection of the dataset by using information and communication technology and Internet of Things (IoT) for plant cultivation and various measurements. The soil CO2 emission process has a complex network structure in which various factors interact with each other. Analyzing the obtained dataset by using artificial intelligence technology, we will attempt to obtain a picture of the network and elucidate the mechanism underlying soil CO2 emissions. This would enable mathematical modeling of the CO2 emission process through organic-matter decomposition and clarify the conditions required for reducing soil CO2 emissions under given environments. These achievements might contribute to the development of technologies for agricultural production and forest management with reduced environmental impact.
It is important to develop technology that both reduces soil CO2 emissions and maintains plant growth suitable for agricultural and forest ecosystems. While CO2 is generated through the decomposition of organic matter into inorganic matter in soil, plants uptake inorganic matter such as inorganic nitrogen*3, a major nitrogen source, for their growth. A reduced amount or decomposition of organic matter in soil could reduce CO2 emissions but inhibit plant growth. One pathway to balancing soil CO2 emission and plant growth is to control the microorganism activity so that CO2 generation through organic-matter decomposition declines. However, this is very challenging because there are a huge number and variety of microorganisms in soil, and the ecology of most microorganisms remains unknown. Another pathway is to develop plants showing a high availability of organic nitrogen*4. Several plants species have been reported to uptake organic nitrogen for their growth, and there is an interspecific variation in them, but the underlying mechanisms are largely unknown. We are currently searching for the genes involved in the uptake of organic nitrogen by plants. In the future, we will develop plants that show vigorous growth even under low inorganic-nitrogen levels by applying genome editing to identified genes. This has the potential to achieve crop production with a low supply level of chemical fertilizer including inorganic nitrogen, which is important in terms of saving resources and preventing environmental pollution.
4. Future perspectives
In this article, we outlined the technologies we are developing for CO2 conversion and emission control. For CO2 conversion technology to be practical, it needs to be provided as a packaged technology considering the use or storage of the produced organic matter. We are developing packaged technology for CO2 conversion and utilization in algae focusing on the food chain in the ocean, and a similar attempt will be carried out for plants. Controlling the organic-matter decomposition in soil is key for CO2-emission control technology but must be compatible with the activities of living organisms in ecosystems. Under this context, we are planning to construct a simulation model to assess the impact of controlling organic-matter decomposition on the entire ecosystem. We will promote the practical use of these technologies to achieve carbon neutrality while preserving the environment, food production, and biodiversity.
References